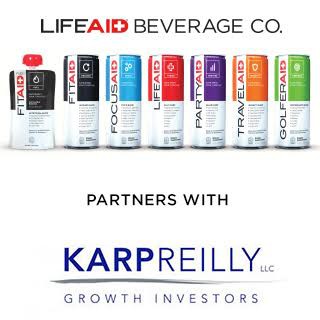 LifeAID, a functional beverage brand based in Santa Cruz, California, has completed its first capital raise outside of friends and family with an investment from private equity firm KarpReilly.
After announcing the news in a press release last week LifeAID co-founders Aaron Hinde and Orion Melehan discussed the investment in a call with BevNET on Tuesday, indicating the amount of the raise was in the "high seven figures."
"Building out our distribution and sales networks is an endeavor and we knew it would require an institutional partner to back us," said Melehan.
The duo went go on to discuss how the investment came about, as part of the company's ongoing move beyond the targeted, niche communities – Crossfit gyms, golf courses, music festivals – where it's built a following into more conventional channels of distribution, including Vitamin Shoppe, Whole Foods and several Safeway/Albertsons divisions.
"The plan was always to first build the consumer base and brand awareness in the on-premise market and dominate those niche channels," said Melehan. "This raise will really help bridge the chasm between our niche communities and conventional."
"Instead of pushing our way into conventional we've gotten pulled into conventional," added Hinde. "How is it we're doing so well at H-E-B? Well, Crossfitters shop at H-E-B, golfers shop at H-E-B, the Burning Man community shops at H-E-B. Our community is already intact and already shopping at these retailers and they're demanding our product."
The company's move into conventional retailers will also see the introduction of a more mainstream, less specialized addition to its product line. Later this year the company will launch LifeAID, a beverage high in antioxidants and natural anti-inflammatory ingredients, targeting the soda consumer looking for better-for-you alternatives.
"This is a beverage people could easily swap out their daily diet soda habit for and then they'll continue to have their FitAID with their fitness, and FocusAID at work when they need a pick-me-up, and PartyAID on the weekends," said Hinde.
For KarpReilly, its investment in LifeAID is the latest addition to a growing beverage portfolio. The firm has previously invested in Kevita and Spindrift, and in February of 2016, the firm announced its acquisition of Zola.
SOURCE: https://www.bevnet.com/news/2016/lifeaid-founders-discuss-karpreilly-investment